FOR SALE: ARTWORK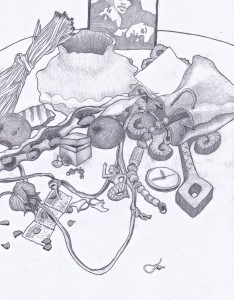 See
ART GALLERY
to view photos, drawings, collages, sea glass creations, prints, wire work, cut paper, magnets, etc. Some are for sale as marked. Custom work also available.
FOR HIRE: CONSULT, DESIGN, BUILD SERVICES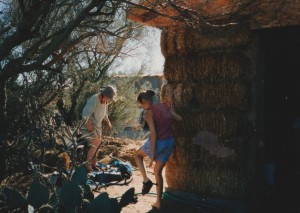 Brainstorm and implement ideas for your current or upcoming natural building, rainwater harvesting, permaculture, art, or gardening projects. Site planning, native-plant food forests, sensible shelter options, medicinal plants and self-care projects, self-sufficiency skills and projects, passive solar design and projects, mud and straw, rock and wood. See
BUILD
page for detailed offerings; rates upon request.
COMING SOON: PLEASE HELP SUPPORT!
These works in progress need your support. Contribute to Lorenziniworks to bring these projects to completion. Contributions basically buy time for needed work to plan, produce, print, illustrate, and bring ideas to life. Thank you for investing in creative, educational Lorenziniworks!
SUN DONE: SLOW ART–a very special art/science project!!
SONORAN DESERT FOODS CALENDAR (SDFC) POSTER–comprehensive, expanded harvest & planting calendar, 3'x4', with more color drawings, animals and insects, medicinal plants, migrations, astrology, plant-transplant-harvest cycles, temperature and rain graphs, etc.
BEAUTIFUL BENEFICIAL BEAN TREES GUIDE–learn to identify, grow, collect, process, and use valuable Sonoran Desert legume trees: ironwood, mesquite, and palo verde.
COOL CACTI GUIDE–learn to identify, grow, collect, process, and use Sonoran Desert cacti: cholla, barrel, saguaro, and prickly pear.
POLLY POD'S POINTERS–tips for best mesquite pod harvesting practices starring Polly Pod and her Eat Mesquite rap.
SEED-TO-FRUIT GUIDE–visual guide showing life cycle of desert foods as they germinate and grow to maturity.
WILD RECIPES: SEASONAL SAMPLINGS COOKBOOKLET–revised expanded version of this popular booklet.
HOW-TO TUTORIALS–video/photo/tutorial/booklet versions, including: Four-Season Solar Oven; Haybox; Cob Building; Cob Tub; Cob Baking Oven; Seed Balls; Twig Stove; Earth Plaster Basics; Herbal Salve; etc.