Support creativity! Fund abundance! Proceeds from class fees (see LEARN), sales of educational materials and Greens Goddess produce and VAP's (below), and your generous donations, promote & support continued Lorenziniworks, and the creation of beautiful educational materials and other interesting programs and projects that benefit the community. See below for items for sale and projects that need support. CONTACT me for local and wholesale orders, arrange local exchange, or for further details. Thank you kindly!
FOR SALE: EDUCATIONAL MATERIALS
SONORAN DESERT FOODS CALENDAR (SDFC)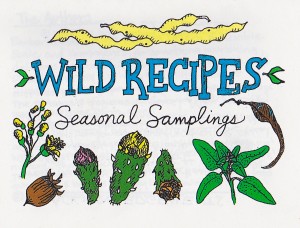 WILD RECIPES: SEASONAL SAMPLINGS:
Eat the year! This cookbooklet features wild, native, and cultivated Sonoran Desert foods used in scrumptious recipes through every season. It includes drawings, recipes, resources, and inspiration for experimentation and enjoyment. Sustainable living centerfold you can color! Recipes and art by Barbara Rose and Jill. Paper 4-1/4″ x 5-1/2″. See also
CALENDAR
for seasonal Plant Walks, and native foods classes and workshops, which may include delectable gourmet lunches from native and homegrown foods, at Bean Tree Farm and other locations. Revised and expanded Wild Recipes version 2 in the works also (5-1/2″ x 8-1/2″).