HANDS-ON WORKSHOPS & CLASSES
Classes are available at various locations, dates, and times.  I am also available to teach classes at your school, community center, event, or neighborhood.  Host a class at your site and receive discounted fees.  Please inquire for details about classes that interest you.  See CALENDAR for upcoming classes and workshops.
Click on a link to learn more about offerings:

GROW
INHABIT
BUILD
MAKE-YER-OWN
CREATE
MOVE:De AGUA
GROW
Gardening in the unique and sometimes harsh conditions of the desert requires specific methods and information for success.  Heat, low humidity, and poor soils are major factors to consider; water use, seed choices, and seasonal differences are others.  Patience, persistence, and good practices will assure bountiful and continuous harvests, and opportunities for future generations to sow and reap the same.
"…I've got to get back to the land, gotta set my soul free.  We are stardust, we are golden, we are billion year-old carbon, and we've got to get ourselves back to the garden…"  Joni Mitchell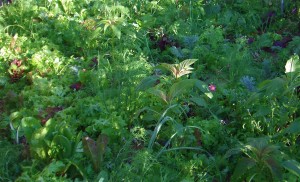 Desert Gardening Basics 1&2–Cool and warm season strategies for successful and varied harvests.  Learn about soil, seeds, planting cycles, watering, mulch, amendments, season extenders, protection from extremes, harvesting techniques, and recipes for abundance.  Cool Season Basics-1, Warm Season Basics-2.
"…I have great faith in a seed.  Convince me you have a seed there, and I am prepared to expect wonders."  Henry David Thoreau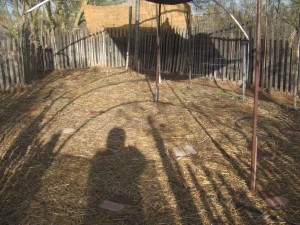 Down & Dirty: Building Desert Soils—Develop a relationship with the ground you walk on and grow food in, the sweet earth that sustains us all.  Building and enriching soil is a human tradition many thousands of years old, essential to successful food production and the very survival of agri-culture all over the planet.  Fortunately, many methods exist for accomplishing this.  Learn about desert soils, manures and other amendments, cover crops, compost, mulch, microbes, jar tests, nitrogen, worms, fallow time, etc.
Lover of the Land: Gardening As Relationship—Commitment, nurturance, intimacy, trust, love, awareness.  These things grow good food and good relationships.  The old adage you reap what you sow applies, or, as my mom used to say, you get what you give.  Explore the metaphor!  Grow yourself.
"And her hands, in her hands, you can see it in her hands, she's a lover of the land, a lover of the land."   Joules Graves
Common Garden Medicinal Plants–Chickweed, calendula, garlic, burdock, poppy, sage, thyme, peppermint, lemongrass, etc, are not only culinary but medicinal herbs as well.  Learn to grow, harvest, process, and use these tonic medicines and foods.
INHABIT
Hands-on classes teach about the ethics and methods of cultivating and foraging Sonoran Desert medicinal plants as well as seasonal foods from perennial legume trees, cacti, shrubs, and vines.  Become familiar with the local landscape, place-based living, and abundant foods and remedies in the following classes.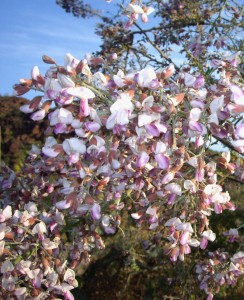 Beneficial Beautiful Bean Trees—Develop an intimate appreciation for the Sonoran Desert's three star legume trees: native Mesquite, Palo Verde, and Desert Ironwood.  Taste highly edible and nutritious mesquite pods and seeds of Palo Verde and Ironwood trees, and learn to identify and harvest at proper times.  Flowers also edible!  These trees also provide many other benefits for soil, flora, fauna, and healthy  habitat.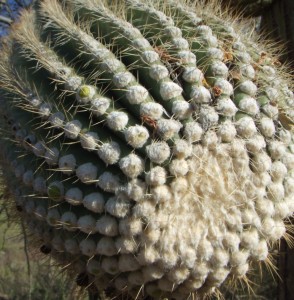 Cool Cacti—Cool cacti have many strategies for surviving the harsh conditions of a desert, which are aridity, extreme temperatures, and limited water resources.  Succulence, drought tolerance, and drought evasion are some of their strategies.  Learn how to identify and harvest desert foods: cholla buds, barrel cactus fruit and seeds, prickly pear pads & fruit, saguaro fruit, all plants evolved to Sonoran Desert climate conditions.  Other cactus fruit like organ pipe and pincushion are healthful, delicious, and fun to harvest too.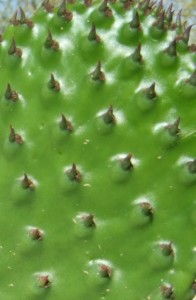 Amazing Areoles—Only cacti have these special features, small regularly spaced nodes on pads, segments, tubercles, fruit, and on columnar cactus stems, from which flowers, fruit, spines, glochids, a new segment, pad, or arm, or roots may emerge.  Amazing!    (Not to be confused with the word aureole or aureola, which describes a halo or corona around the sun or a sacred being, nor with areola, which describes anatomical features.)

Aloe & Other Allies—Neither a native nor a cactus, succulent aloe is an often underused medicinal.   Beyond it's typical application for burns and sunburns, for which it is extremely effective, aloe has other uses.  Dried or fresh exudate from the non-gel, green part of the leaf may be used as a topical anti-fungal remedy.  The clear gel most of us are familiar with draws out not only the heat and pain of burns, but also toxins and foreign objects like stings, thorns, blood from bruises, and slivers, and inflammation.  Also learn about prickly pear, clay, and honey for first aid.  Take home medicinal aloe pups to grow at home.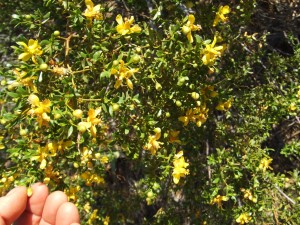 Sister Larrea—Larrea tridentata, aka creosote bush, is one of my favorite desert plants.  Vastly ubiquitous, potently fragrant, impossibly ancient, unbelievably tenacious, highly medicinal, and brightly colorful, it's an all-around ally.  Learn about this unique plant and how useful it is for self-care.  Historic use of this valuable plant by native cultures informs current use and knowledge of its healing potential.  This plant's voluptuous fragrance, intensified by rain, is what many people recall when they think: desert.  Recipes for salve, bath tea, flower bud capers, powdered hemostat/anti-fungal, and "tar" concentrate for drawing out toxins.  Also known as greasewood, hediondilla (Sp, little stinker), and gobernadoro (Sp, governor).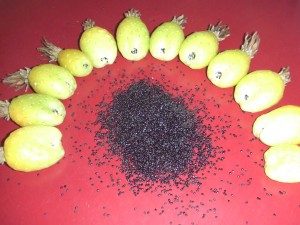 Super Seeds—Amaranth, chia, barrel cactus, and sunflower seeds: super nutrition meets old tradition.   Cultivated and collected by native peoples in the Southwest for generations, not only are these plants edible, delicious, easy to grow, and useful in other ways, they're also beautiful.  Amaranth and sunflower are also dye sources.  Chia seed could be considered a medicinal food.  Learn how to use and grow these super plants and the nutrition they provide.
Native Cultivated Crops—Native people of the southwest cultivate a variety of crops in dryland conditions.  The 3 sisters–beans, corn, and squash–are grown with melons, amaranth, chiles, tomatillos, and herbs, in the warm season.  Others seeds are planted with the arrival of monsoon rains: devil's claw, panic grass, corn, cowpea, sorghum, sunflower.  Still others are cultivated in the cool season: garbanzos, lentils, cilantro, onion, wheat.
Mission-Era Fruits and Foods—Spanish Jesuit missionaries began arriving in the Sonoran Desert in the 17th century to colonize and convert, bringing with them the seeds and rootstock of familiar foods from their homeland, Spain, and nearby northern Africa.  Established mission gardens introduced new fruits: pomegranate, fig, lime and lemon, quince, grapes, pear.  Grains wheat and sorghum were also introduced to native farmers as food for people and livestock.  Learn about these and other crops and where to find heritage varieties for planting in your desert gardens.
Urban & Wild Plant Walks— Through various seasons, learn to identify trees, vines, cacti, shrubs, and other plants in your neighborhood or out on the trail, especially native foods and medicinal plants of the Sonoran Desert.  Develop an appreciation for the myriad benefits these plants provide, and restore them to your household, community, and regional landscapes.  Any walk location offers opportunities for learning and expanded awareness.
Common Sonoran Desert Medicinal Plants—Easy to identify, plentiful, effective, and simple to process desert medicinal plants include: desert lavender, creosote bush, desert passionflower, ocotillo, mallow, plantain, prickly pear, etc.  Learn to ethically harvest and make alcohol-basaed tinctures, oil-based salves, teas, herbal bath formulas, and poultices from these plants and other common ingredients.  Learn plant medicinal properties and qualities.  Take self-care into your own hands!  Build a first-aid kit with your knowledge.
(Back to top)
BUILD
Hands-on classes allow understanding through immersion in the methods and materials presented.  Acquire information as well as skills and confidence for your own building projects.
"Buildings and bridges are made to bend in the wind; to withstand the world, that's what it takes.  All that steel and stone are no match for the air, my friend; what doesn't bend breaks…"   Ani DiFranco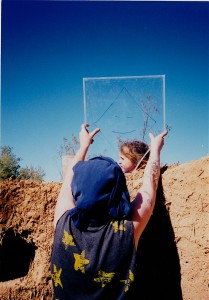 Cob Basics: Slow Building— Learn the art and craft of cob: hand-built earthen construction.  Test soil to see how much clay, sand, and other ingredients it contains.  Mix and become familiar with proper cob consistency.  Learn to build walls, benches, ovens, small structures, and sculpture from cob.  Mix with your feet, construct with your hands, and create free-form structures that don't limit you to straight lines and right angles.  Earth is and has been one of the most commonly used building materials on the planet.  1: Soils, mixes, basic building concepts, model and small wall projects.  2: Details, windows, built-in elements, finishes, small wall and sculpture projects.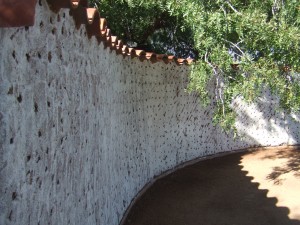 Plaster Basics: Earth & Lime–Using the same basic materials as other earth mixtures, but sifted to finer particle size, earthen plasters can be used on interior surfaces and well-protected exterior surfaces.  Lime plaster made from sand and lime is breathable like earthen plaster but provides a more durable finish, which may be used in certain exterior situations.  Additional ingredients add beneficial qualities to plaster mixes, like water resistance, workability, hardness, surface quality,  etc.  Learn about basic concepts plus proper installation and maintenance techniques, and the potential for decorative elements.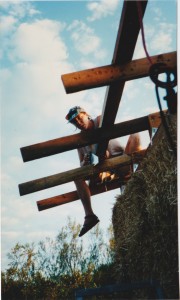 Straw-Bale Basics 1&2: NE-Style & Infill Techniques–No huffing and puffing, just stacking and stuffing!  Load-bearing Nebraska-style straw-bale wall system concepts and methods; NE-style hybrids (combined with rammed earth, adobe block, cob, wood, or concrete block structural systems); post-and-beam infill techniques with wood, steel, and other frameworks.  Classroom and hands-on components.  Basics 1-Slideshow chronicling history of straw-bale, revival, and contemporary applications.  Basics 2-Introduction and hands-on demos of concepts.
Hand Tools Basics 1&2—Empowerment without a cord!  Extend the use of your hands—the most amazing tools themselves—with common household hand tools.  If you were never shown how to use hand tools, or need a refresher, prepare to gain confidence, skills, and the ability to FIY: fix it yourself.  Learn proper and effective use of simple hand tools and develop familiarity and confidence.  Hand Tool Basics 1: hammer, screwdriver, wrenches, socket set, pliers, hand drill. Hand Tool Basics 2: saw, square, level, tape measure, clamp/vise, hammer stapler.  Also safety basics.
Passive Solar Basics 1&2: Concepts & Projects–First learn passive solar concepts, next construct easy and useful passive solar projects. Passive Solar Basics 1-Concepts apply to solar ovens, water and air heating, and house design.  Consider light and heat energy, insulation, reflection, transmission, convection, mass, materials, and ventilation.  Build a simple solar oven/dehydrator from common materials to see concepts in action. Passive Solar Basics 2-Build a small model structure out of cob or blocks using passive solar concepts, then place outside to observe as light and shade move around and through the structure openings in various orientations and times.
MAKE-YER-OWN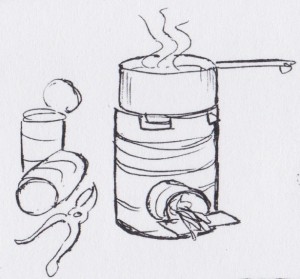 Tin Can Twig Stove– Using olive oil, #10, and smaller tin cans reclaimed from the local waste stream, plus tin snips and can openers, construct your own camp stove that burns hot and clean using only small twigs.  Makes efficient use of fuel and time, a great DIY project.  Each participant leaves with a stove and carry bag.
Haybox- This old-fashioned box saves the avid cook fuel and time and also frees up stove burners for other cooking.  In hot climates, reducing cooking time keeps kitchens cooler and reduces energy costs for both cooking and cooling.  Easily made with recycled materials.  Host or lucky participant keeps haybox built in class; everyone receives concepts and haybox plans, plus What-the-Hay improvised haybox ideas.
Herbal Salve– Medicinal desert herbs are steeped in jojoba and olive oils and thickened with beeswax to form a fragrant, fast-acting salve that provides relief and healing for topical skin injuries often encountered in desert living.  Learn which plants to harvest and when, how to steep, strain, and jar, and how to use.  Each participant gets a small jar of salve and Make-Yer-Own handouts.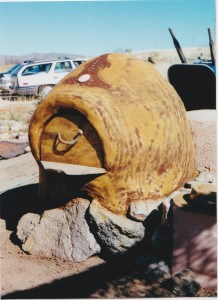 Cob/Earthen Baking Oven– Using rocks, clay, sand, water, firebrick, and straw, build a wood-fired cob/earthen baking oven.  Cob's thermal mass properties of absorbing, holding, and then slowly releasing heat, allow continuous baking for hours after a fire is burned and only coals remain.
+Host provides all materials and site use.  This can be taught as a 2-day, 1-weekend workshop, or a 2-day, 2-weekend workshop.  Limit 10 participants.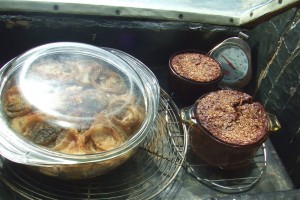 Free Energy Tastes Good! Make-Yer-Own Solar Oven—Cut and assemble a solar oven box and mirror reflectors for this all-seasons household oven.  Bake bread, casseroles, grains, cookies, cakes, soups and stews, roast squash and other veggies, melt, dehydrate, make tea and sauces, etc—the possibilities are endless!  Save energy and preserve food quality and taste.  Save or eliminate electric and gas use for much of your cooking needs.  Heliothermic happiness!
+Host provides all materials and use of site, participants receive plans for this oven, hands-on experience, and a small cardboard stove for melting, drying, and heating, assembled during lunch.  Limit 10 participants.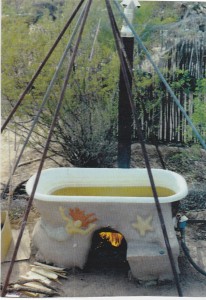 Outdoor Cob Bathtub—Construct a block foundation for an outside bathtub, then sculpt cob around the tub forming steps, seat, sculpture, chimney opening, firebox opening, shelf, etc.  Cob, a thick thermal-mass material, keeps fire-heated water hot for hours.  Bath greywater is drained to nearby native plantings to grow an enclosure around tub area.  
+Host provides all materials and use of site, participants get cob handouts and hands-on experience.  Limit 10 participants.
(+These permanent structures require a site at which workshop and construction take place.  Hosts provide all materials and receive reduced fee for workshop.  Inquire for details.)
(Back to top)
CREATE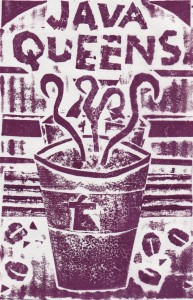 Printmaking 1&2—Low-tech, least-toxic, least expensive, most accessible materials and methods,  plus the most fun!  Various techniques and projects to try, just your ideas need to be added.  Printmaking 1: stamps, objects, stencils, imprints, rubbings; Printmaking 2: collagraph, monoprint, rubber/wood/linoleum block, sunprint.  Unleash your creative self!  Take home all work in a folder you print to personalize.
Drawing Basics 1&2—Train your eyes to observe, your brain to process, and your hand to translate by drawing all you see and imagine around you.  Basic exercises and projects are offered to develop these skills.  Drawing 1: Simple concepts like perspective, shading, contour, and various materials are demonstrated and explored.  Keep a drawing journal of the class!  Drawing 2: Basic concepts are built upon with fun exercises and additions like color, collage, text, format, etc.
Collage—The old-fashioned cut-and-paste method!  Cut images from magazines and reassemble onto cards, cylindrical oat boxes, and old picture frames.  Try partner collage, shadow box collage, decoupage.
(Back to top)
AQUATIC FITNESS
Whole Body Basic Workout
Focus Areas Workout
I am available to teach at your heated pool.  Please contact me for details and rates.